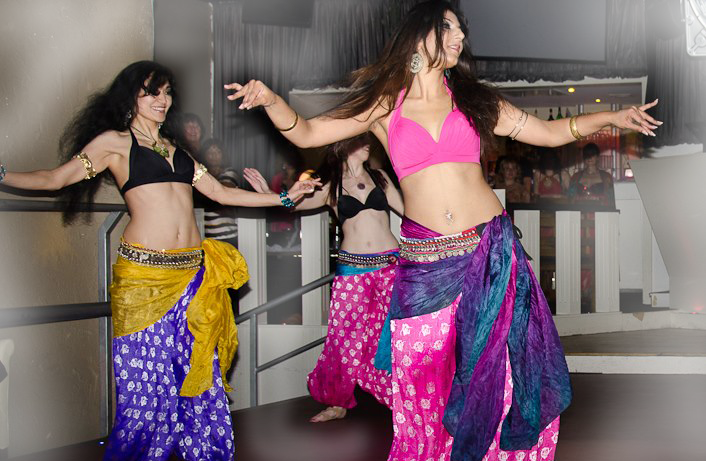 Saeeda bellydance school
Experience the magic of bellydancing
Bellydance classes are an ideal opportunity to express yourself creatively and to improve body balance, concentration, posture and flexibility.
FREE TASTER CLASS on Wednesday 6 February 2013, 7:00 pm!
Come to the FREE TASTER CLASS – get 10% discount for the whole course and prepare yourself for the Valentine`s Day))))))
Beginners Level (Level 1) 6 week course starts on 13 February.
Venue: Vatican Studios, Railway Arch 190, Bancroft Road, London, E1 4ET        

view on the map
Closest stations are Bethnal Green (Central Line) and Stepney Green (District, Hammersmith&City Lines)
Time: Wednesday, 7-8 pm
Course dates: 13 February – 20 March 2012
Price: £54 for the 6 week course or £10 drop-in class
Buy the Course 
Today or
contact me
LEVELS Description. 
Level 1: Beginners Bellydance Course
On beginners bellydance courses you will learn the fundamentals of bellydance:
isolations
basic steps
hip drops, lifts, circles, pushes
upper body/chest movements
shoulder and hip shimmies
arms movements
turns and more
Each bellydance class consists of warm up, drills and techniques broken down in an easy to follow way, choreography combining what was covered in the class and finally a cool down and stretching.
 Level 2: Improvers Bellydance Course
The improvers bellydance classes are suitable for those who feel confident with basic moves and are looking to further develop and strengthen their technique and performance skills.
My improver bellydance classes are aimed to take your bellydance technique to the higher level. You will learn:
vertical and horizontal figures of eight
arms movements
body wave (camel)
belly rolls
travelling steps
different kind of shimmies
increase your musical knowledge of Middle Eastern music genres
bellydance combinations
This course is suitable for those students who have completed at my 6-week beginners course or have taken bellydance classes before at another dance school. Also for those students who would like to practise basic technique and combinations at a more relaxed pace than the Intermediate Course.
Level 3. Intermediate Bellydance Course
Intermediate bellydance classes are focused on more challenging bellydance choreography which students could then have the opportunity to perform in front of a live audience.
You will learn:
hip movements and combinations
more advanced layers
choreography
variety of travelling steps
different styles
an opportunity to join level 3 courses according to your individual skills presented on the classes.folkloric movements
bellydance with some props: veil, stick, finger cymbals
Middle Eastern rhythms
The course is suitable for students with a good understanding of bellydance technique who have completed at least two of my 6-week improvers courses or have taken improver bellydance courses at another dance school, or the teacher might give you
What to wear in bellydance classes?
You can wear leggings, loose skirt and a top of your choice. It is recommended to bring a scarf (even if it is not specifically for bellydancing) to wrap around your hips to accentuate the movements. You can dance barefoot, or dance in soft ballet/jazz shoes or simply socks.
Bellydance Taster Class
Bellydance is more than just a workout; it enhances wellness as it combines the use of mind, body and spirit and is suitable for all ages, sizes and shapes.
On my bellydance taster class you will experience the art of bellydance through learning some hip, chest, arms movements and you will have the general idea about this graceful and feminine dance. Taster class is ideal if you are unsure whether you want to sign up to a bellydance course, try the class first and discuss any questions you might have with teacher.